PROVIDED WITH THE NEW INSIGHTS LIFE COACH TRAINING AND CERTIFICATION PROGRAMME
---
This is a comprehensive home based life coach training course and includes access to substantial printed and digital media content, all of which is courier delivered direct to your door
within a few days of you enrolling with us.
Here's what you will receive:
---
INTRODUCTION TO THE PROGRAMME AUDIO CD AND RESOURCES DATA CD
The introductory CD (also available in MP3 format through our website) will guide you through all the elements of the course and how to get the best out of it.
The Resources CD contains the coaching session notes in electronic form, client feedback forms and more, for you to use during the programme (these resources can also be accessed separately through our website).
THE PROGRAMME INTRODUCTION & ETHICS MANUAL

This manual introduces you to the course outline, our online resources and support tools, the core competencies that you'll develop, requirements for obtaining New Insights certification as a life coach and the importance of coaching ethics.
SKILLS TRAINING MANUALS

Seven Skills Training Manuals include some seven hundred pages of material covering everything you need to know about life coaching, including listening, building rapport, great questioning skills, setting inspiring goals, understanding the change process, setting your client up to win in life, uncovering your client's beliefs, rules, values and life purpose, learning the art of effective communication … and much, much more!
SIMULATED LIFE COACHING SESSION DVDS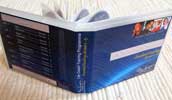 A program of full length Simulated Life Coaching Sessions is presented on DVDs to demonstrate exactly how to run each of the thirteen New Insights life coaching sessions.
These DVDs really set our life coaching course apart!
COACHING SESSION NOTES
The full set of Coaching Session Notes (both coaching notes and client take-home notes) that you will require to run a professional New Insights coaching program of thirteen sessions with your clients is presented in printed format here for your reference as well as in full colour in electronic format on the Resources CD.
The New Insights Life Coaching System is unique and offers you both the structure and content for your coaching sessions.
BUSINESS SUPPORT MANUALS

Four Business Support Manuals containing a wealth of material – over 500 pages – that will assist you in establishing and promoting a successful coaching practice, including
Selling Your Services
The acclaimed 'Kaizen' Marketing System for small businesses
Planning Your Practice (a business plan template); and
Succeeding in Your Business – a unique manual that is chock-a-block with hints, tips and techniques to guarantee your success.


BY MAIL:

New Insights Africa
Regus Business Centre
Ground Floor, State Street House
River Park
Gloucester Road
Mowbray
7700

BY TELEPHONE:

086 110 6460 (sharecall)

OR

021 680 5090 (+27 21 680 5090 from outside SA)